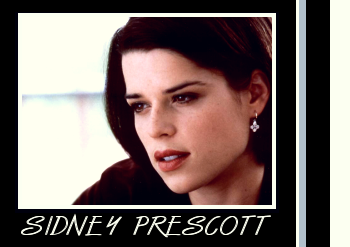 Codes // Join // Edit // Fans // Links // Clear


W E L C O M E
to the Sidney Prescott fanlisting! Sidney is the main character in the Scream movies and is played by actress Neve Campbell. Sidney isn't your typical horror movie "victim" because she's really not a victim at all, she's a survivor who fights back and fights hard! A fanlisting exists to display and join together all the fans of a subject, and that's what this site is here for, so come and join!

We opened this fanlisting on: March 2, 2008 when we adopted it from Christine.


Last update: 04th December 2017
Fan count: 85 + (1)
Welcome, Jolene, and Riho


Listed at: The Fanlistings Network, The Movielistings Network
Webmistresses: Lacy & Stephanie
Part of: 10-31.net



© 2008 This site is a fan effort of 10-31.net. No copyright infringement is intended.